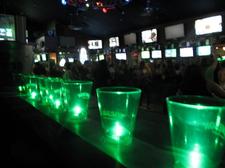 Welcome to Tequila Hoppers!

The world's best happy hour just got better! Now starting at
2:30pm-8:00pm 40% off All Drinks (Monday – Saturday)

Featuring: Fifty TV's and two giant screens, large dance floor, 80 of the coldest beers in town on tap, large smoking heated patio, over 5000 specialty drinks and shots.

---
Please click on Upcoming Events & Coupons tab above to check out whats happening at Tequila Hoppers...

Weekday Specials...

Monday
Karaoke Night

$3 Three Olive Shots
$4 Three Olive Drinks
$3 Bottle Beers
Drinks Specials 8pm to close

Karaoke Starts at 9pm
( Starting September 14th will be adding at $100 Karaoke Contest )

Tuesday
Taco Tuesday

.75 Tacos until Midnight
$2.25 Mexican Bottle Beer
50% off Mexican Draft Beer
$2 Well Tequila Shots
7pm to close



Wednesday
Wing It Wednesday

$.75 Wings
50% off Beer
8pm to Close



Thursday
Mechanical Lime Thursdays
$3 Corona & Corona Light Bottles
$4 Regular Lime Margaritas
$5 Patron Shots
$7 Cadillac Lime Margaritas
8pm to close

Starting September 17th will be adding a $100 Sexy Lime Riding Contest





Friday
Craft Beer Friday's

40% off All Craft Beer
8pm to Midnight

$5.99 Steak Fridays from 6pm to 10pm with a 2 drink minimum


Weekend Specials...
Saturday
Club Night

40% off Liquor U Call Its
8pm to Midnight



Sunday
SIN Sunday – Happy Hours All Day

Football is coming - Sundays we will be open at 9am for Breakfast during football starting 09/13/2015